Map of Rome
Before you go to Rome, it is good to check out some maps so you can plan your trip. Here I have put together a few different versions so you can learn to find in Rome. If you use the Satellite view om the maps you get an aerial view. It gives you a better sense of the city of Rome.

Different maps of Rome:
Map with attractions and sights in Rome
An interactive map with several of attractionsna marked to assist you find them. Click on one of the dots in the map to get more information. You then clicking through to read more (but then leaves you map). Do not forget that you can zoom and move around. Test to switch to satellite images.
Map of Rome
Tha same map but this time without the sights and attractions (for those who feels that they interfere)
Simple map of Rome
If you do not get the interactive maps to work, you can use this as a normal map view of Rome: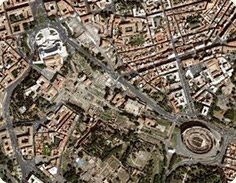 Try to switch to satellite mode when you open a map to get a more detailed overview.
(If you are interested in maps of New York, use this link:
New York map » )