Travel guide Rome - Bars
Here you find some tips on bars to visit when you travel to Rome
Bars
The bars in Rome is a meeting place where people socialize and discuss the events of the day before dinner. Many of the bars do not serve only drinks, but you'll also find coffee, ice cream and snacks.
Often the snacks is free.
Some ofte the Bars in Rome:
Friends
Known for its aperitivi. Foreward evening, there is a
buffet of appetizers. A bar for the younger ones with
modern design in Trastevere.
Address: Piazza Trilussa
Jonathan's Angels
One place that stands out with elegant white-bearded owner who paints pictures.
Piano bar with sing-alongs and an odd toilet with a wishing well. Pop star Shakira likes this place.
Address: Via della Fossa 16, behind Piazza Navona
Bloom
Trendy place that serves sushi until 24:00 and after that it turns into a cocktail bar.
Address: Via del Teatro Pace 30
Bar della Pace
Should be the the best place in Rome for celebrityspotting. Despite congestion and more tourists you will still be able to spot movie stars and other celebrities here.
Address: Via della Pace 4-7
Bar del Fico
A more casual bar with a lot of visitors.
Address: Piazza del Fico 26th
Rosati
Like waiters in white jackets? THen this is the right place for you. The atmosphere of the 60s lives on.
Address: Piazza del Popolo 5th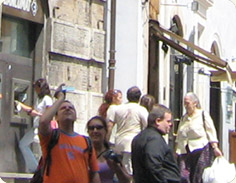 Thirsty tourists in Rome that missed to read my tips on bars in Rome.