Trevi Fountain Rome


Trevi Fountain is one of Rome's most visited attractions. It's fame rose further when Anita Ekberg took a bath in it at night Fellini's movie La Dolce Vita from 1960.

Trevi Fountain is situated on the Piazza di Trevi in Rome. A few years ago the owners of the property was offered to sell only the ground floor (including the fountain) for 8 million pounds.
(Click on the images for larger versions)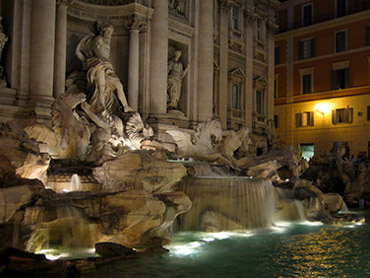 Trevi Fountain transformed in the evenings into one of Rome's gathering places for tourists and romantic couples (or both). Do you throw a coin into the fountain, you ensure that you later in life will return to Rome. I can understand that Anita Ekberg bathed in the fountain, it looks inviting ...
The lighting is essential to create the atmosphere at night. The fountain is beautiful during the daytime, but at night it's a completely different experience. Expect the place to be crowded if you're there during peak season!

---
Fact about Trevi Fountain:
The Trevi fountain in Rome was designed and laid out already in 1640 by Giovanni Lorenzo Bernini but the work continued much later by Nicola Salvi who died 1951 and Giuseppe Pannini who finished the fountain at 1762.

Nicola Salvis idea about the fountain was that water was everywhere, both as water droplets in the air and sprung out of the earth.
The name derives from a long time ago when three streets that met at the pace of the fountain. Fountain is a variant of Trivio which means "three streets".
Trevi Fountain gets its water from a 2000 year old aqueduct.
The fountain is most famous for the legend that says that whoever throws a coin into it will ensure get back to Rome.