Piazza Venezia in Rome


Piazza Venezia is a large square in Rome that in itself is not so remarkable. But the monument that is located at the square, however, is an artistic showcase of what can be done if you have plenty of of money and white marble!
The monument is a landmarkn in Rome and one of the bigger sights. Personally, I think it it is a bit extreme but I have to agree that the monument is a magnificent creation. It has been given the nicknames like "The wedding cake" and "Typewriter".
(Click on the images for larger versions)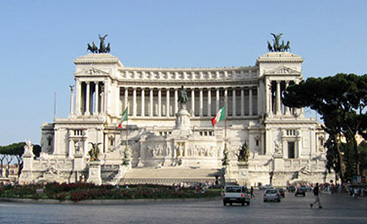 The grand monument in Piazza Venezia dominates the surroundings and was built to celebrate Victor Emmanuel II, who was the first king of a united Italy.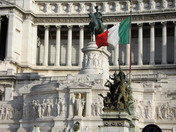 Piazza Venecia is stuffed with ornaments and sculptures with incredible detail. Most of it is built in white marble, but there are also a lot of bronze sculptures.
I have not found any detailed information on the monument. But like the city of Rome, it can hardly have been built in a day.
---
Facts about Piazza Venezia:
Piazza Venezia is a square in Rome that took its name from the nearby palace, the Palazzo Venezia.

At the square lays the monument of Victor Emmanuell II. Victor Emmanuell II was the first king of Italy after it was united.
Palazzo Venezia was built in 1455 and the name comes from the fact that at one time it was used as the Venetian Embassy (Venezia is the Italian word for Venice). The building today contains a museum, Museo del Palazzo di Venezia, whith art from early Christianity through the Renaissance, including terracotta sculptures by Bernini.
Biblioteca Nazionale d'Arte is also in the palace as well as the early Christian basilica of San Marco built.
The palace has been the residence of both Pope Pius IV and Mussolini, but also the seat of the Vatican Austrian Embassy.
The monument (National Monument to Victor Emmanuel II) was design by Giuseppe Sacconi in 1885 and was completed 1925.
At the monument you find the eternal flame and the Tomb of the unknown soldier. The flame is always lit and is protected by guardians (you can get near it).
You can walk up on the monument by steps and you can visit the museum of Italian Reunification.

You can also get in top of the monument to have a great view of Rome. Walk as hi you can get and then walk through the monument and around at the back you find an elevator (cost 7 euro about 10 $).

From the top of the monument you get a wonderful view over the central parts of Rome and also over The Roman Forum (forum romanum) and the Palatine Hill.